Data Literacy is top of mind across industries, businesses and governments because data is the source of innovation, growth, opportunity, and success.
While enterprises of all sizes have invested in training, learning and development and other skill-building programs for decades, the acute interest in Data Literacy appears to be a recent phenomenon.
Why is it urgent to instill, evolve and scale Enterprise Data Literacy NOW?
How Enterprise Data Literacy Became a Hot Topic
Despite social media content, email newsletters and journal articles that allude to data literacy as a novel topic, the concept of Data Literacy has been around since the 1940s and 1950s, well before modern enterprises had the opportunity to try out computers(1). One could easily say that the idea of data literacy is as old as written language when farmers tracked yields and early traders documented transactions. It's at least as old as when business schools, featuring accounting, emerged in Europe in the 1800s and then was taught at the collegiate level in the United States beginning in the late 19th century(2).
Fast forward to the 20th and 21st centuries, and the topic of Data Literacy became even more popular with the 1988 book Innumeracy(3) and was spurred on with the coining of the umbrella term "STEM" (for Science, Technology, Engineering, and Math) by the National Science Foundation in the early 2000s. Interest in STEM was fueled even more at a business level by other books such as Thomas Freidman's The World is Flat(4).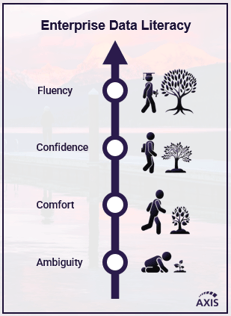 Enterprise-wide use of data grew steadily throughout the late 1990s and early 2000s, thanks in large part to the rise of spreadsheet software and the interest in the corresponding discipline of Business Intelligence (BI). Given that BI has been around in various forms since the 1970s – accelerated, perhaps, by the advocacy of industry analyst firms such as Gartner in 1989(5), at the dawn of the STEM era – it's somewhat surprising that the clear need for enterprise data literacy only seems to have started taking off around 2015 or so, if Google Trends is an accurate barometer(6).
Enterprise Data Literacy Needs Are Urgent
So, why are we now in an Enterprise Data Literacy moment, so to speak? A quick jaunt through our recent history illustrates some key events that contributed to this Enterprise Data Literacy surge:
The publication of the book

Moneyball

(2003), which later became a movie (2011)

The publication of the

Harvard Business Review

(HBR) article "Competing on Analytics" article (2007) and book of the same name (2007)

Growing excitement around data visualization, popularized in the 2010s by the traveling seminar series of Edward Tufte

The rise of Data Science as a discipline (Remember the 2012 HBR article proclaiming that the sexiest job of the 21

st

century would be Data Scientist?) and the hype around Big Data
These events resulted in Data Literacy showing up on the Gartner Hype Cycle for Analytics and Business Intelligence in 2019(7), which validated and underscored the importance of Enterprise Data Literacy.
Enterprise Data Literacy Is Here to Stay
While Enterprise Data Literacy is now widely accepted as a foundational business requirement, many organizations still find themselves facing fundamental data and analytics challenges, such as:
A lack of comfort in using analytics and data

Poor infrastructure and disjointed technology supporting data and analytics

Fragmented, non-standardized use of data and analytics across business silos

A lack of standardization on reliable enterprise analytics tools (versus Excel and its "many sources of truth")(8)
These challenges are compounded by the lack of Data Literacy across a vast percentage of the workforce(9). Simply put, people tend to be very uncomfortable with understanding and using data. This is problematic for most organizations because competing in the 21st century requires effective decisioning, which relies on business data, analytics, and the insights they expose. Recent research from the International Institute on for Analytics validates this conclusion, revealing that organizations that are highly competitive on the use of analytics and data are often industry leaders when compared to other firms in their industry sector(10).
Facing the Analytics Talent Shortage
Some might think that the need for Enterprise Data Literacy is fleeting. This is not so. As businesses migrate to the Cloud, become more reliant upon Software as a Service, and delve into Digital Transformations and other digital experiences, they are creating an ever-expanding volume of Big Data(11). More data, of course, means an ever-increasing need for people to manage, analyze, and interpret that data, which in turn drives demand for analytics talent.
Sourcing that talent with the requisite data and analytics skillsets is imperative for CEOs everywhere. In a recent survey, nearly 1 in 5 executives cited the lack of analytics talent "as a barrier to executing data-centric strategies" as they seek to compete more effectively against marketplace peers(12). Searching overseas for data and analytics skillsets may have worked in the past. However, with the Great Resignation, the talent shortage is no longer just a US or European phenomenon; talent powerhouses such as India are also seeing shortages in areas such as software development(13), and Latin America is seeing technical and data-related talent shortages(14) as well.
The growing lack of data and analytics talent is acute, and it reflects just one aspect of the predicted knowledge worker shortage across the globe, which may result in over 85 million jobs going unfilled by 2030(13). The growing volume of data, and ongoing and projected talent shortage has one resounding solution: businesses must invest in Enterprise Data Literacy across all business functions, roles, and levels, and they must start NOW.
Building and Scaling Enterprise Data Literacy in Your Organization
It is clear that businesses can improve the odds of effectively "Competing on Business" by "Competing on Enterprise Data Literacy."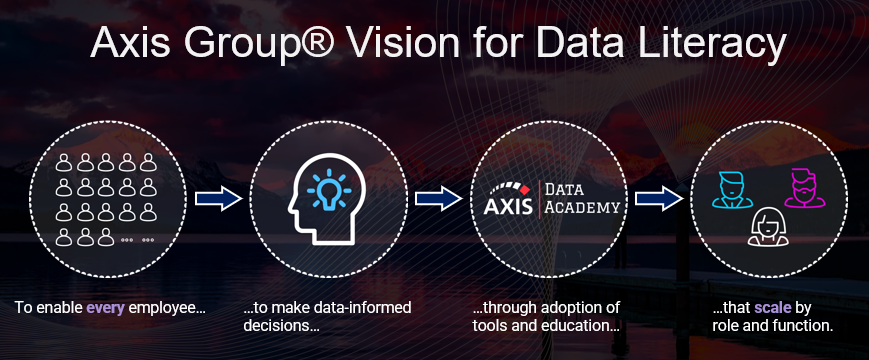 Start your journey by building your own knowledge of Enterprise Data Literacy, with resources such as:
About Axis Group
With 25+ years of experience, Axis Group® delivers innovative data and analytics solutions and services to enterprises. Axis Group meets companies on their digital transformation journeys to improve digital literacy and data fluency. Focusing on each company's unique culture and digital maturity, Axis Group drives analytics adoption to enable self-sufficiency resulting in smarter teams and better business outcomes. Axis Group combines business acumen, leadership, and industry-specific experience with technical expertise to tackle the toughest data problems. Axis Group is The Enablement Company™.
Contact Axis Group today to discuss your Enterprise Data Literacy needs and to set up a free Discovery Session.
---
End Notes:
Explore the timeline of electronic computing at the Computer History Museum, notably the 1950s era when electronic computing started being piloted outside of governments and universities, at

https://www.computerhistory.org/timeline/

Wikipedia has a rather insightful history of Business Schools, here:

https://en.wikipedia.org/wiki/Business_school

Learn a bit more about John Allen Paulo's 1998 national (US) best-selling book, here:

https://www.goodreads.com/en/book/show/186749

Explore a brief history of STEM literacy, and the source of the STEM acronym, here:

https://www.stemschool.com/articles/rich-history-of-stem-education-in-the-united-states

Christina Lago, "150 Years of Business Intelligence: A History," July 18, 2018, CIO Magazine:

https://www.cio.com/article/221963/history-of-business-intelligence.html

Google Trends search, "Data Literacy," here:

https://trends.google.com/trends/explore?date=all&geo=US&q=%22data%20literacy%22

Compare the 2017 Gartner Hype Cycle for Analytics and Business Intelligence

https://twitter.com/BLRNawaab/status/920555488315523072/photo/1

to the 2019 version, to see the change and the emergence of Data Literacy

https://www.gartner.com/en/newsroom/press-releases/2019-10-02-gartner-reveals-five-major-trends-shaping-the-evoluti

Thomas H. Davenport, Nitin Mittal, and Irfan Saif, "What Separates Analytical Leaders From Laggards?" MIT Sloan Management Review, Feb. 3, 2020

https://sloanreview.mit.edu/article/what-separates-analytical-leaders-from-laggards/

Josh Bersin and Marc Zao-Sanders, "Boost Your Team's Data Literacy," Harvard Business Review, Feb. 12, 2020

https://hbr.org/2020/02/boost-your-teams-data-literacy

Jack Phillips & David Ailes, "Analytics Maturity & Company Performance / ROI," International Institute of Analytics, July 2020,

https://www.iianalytics.com/analytics-maturity-company-performanceroi

See the section about 'Our Increasingly Fragmented World of Data and Analytics' in Chris Johannessen's blog article, "Why The Right Data and Analytics Operating Model is a Competitive Necessity," AxisGroup.Com, June 1, 2022:

https://www.axisgroup.com/data-industry-insights-blog/why-the-right-data-analytics-operating-model-is-a-competitive-necessity

Matt Ashare, "Talent, upskilling gaps threaten enterprise data aspirations," HR Dive, May 17, 2022:

https://www.hrdive.com/news/big-data-analytics-upskilling-challenges/624175/

Editorial staff article, "Developer Talent Shortage in India To Worsen: Report," Analytics India Magazine, June 13, 2022, Analytics India Magazine:

https://analyticsindiamag.com/developer-talent-shortage-to-worsen-in-india-report/

Vittoria Elliot, ""It's a bloodbath": U.S. companies are pillaging Latin America's tech talent," January 20, 2022:

https://restofworld.org/2022/latin-america-startup-developer-scarcity/

Michael Franzino and other authors, "The $8.5 Trillion Talent Shortage", Korn Ferry https://www.kornferry.com/insights/this-week-in-leadership/talent-crunch-future-of-work