Your Axis Doesn't Always Have to Start at Zero



Recently, Justin Fox of Harvard Business Review shared a chart about law school enrollment that he found interesting:
this is a pretty amazing chart http://t.co/zBUPxdY3oH pic.twitter.com/w5ivEM4KhQ

— Justin Fox (@foxjust) December 12, 2014
The chart shows how law school enrollment has seen a relatively drastic decline in the last 3 years. You may have noticed that the chart's y-axis doesn't start at 0. This design decision caused a bit of an outrage amongst what are now being called "Y-Axis-Zero Fundamentalists".
Justin shares a lot of the feedback and discussion around this point in his post The Rise of the Y-Axis-Zero Fundamentalists.
The discussion around this point is pretty thorough but I want to add my two cents.
Line charts aren't just for displaying quantities. They are also used to examine changes in quantities. Sometimes, the change in quantity in relation to the entire size of the quantity is not as important as visualizing the direction and magnitudes of the changes in relation to each other. The chart Justin showcased is a perfect example of this type of analysis. It is probably not important to the average reader that law school enrollment was at ~38,000 in 1974, ~52,000 in 2010, and ~40,000 in 2013. What is important is that the change from 2010 to 2013 was significantly large and fast when compared to the historical trend of enrollment numbers. This analysis comes from comparing the slopes and positions to each other, not from comparing the distance of each point to a zero-based axis.
The exact same chart can be viewed with a zero-axis thanks to a slight variation. By changing the metric being plotted, we get: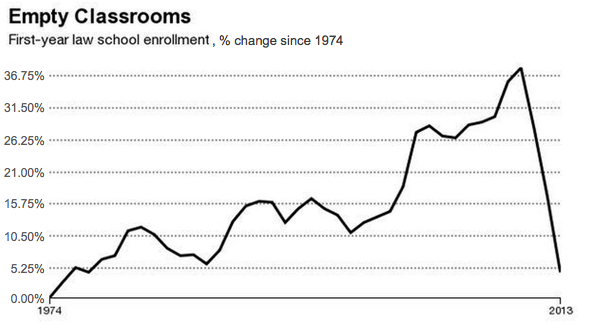 Is this chart now valid because the axis has a 0 next to it at the baseline? One could argue that each point is now quantified by it's distance from the axis. That isn't the point of this visualization however. The average reader probably does not want to quantify the % change since 1974. The metric also doesn't provide any means to derive the nominals, a metric that is more real to a reader and easier to interpret.
The original chart's trade-off of using a non-zero axis with nominal amounts in order to focus on relative changes while retaining a link to the nominal source data so that exact quantities can be derived is valid. The distance of each point to the axis is not visually defined like in a bar chart, so the implication that the distance is equal to the size of the value is not there. Scatter plots use the same positional method of encoding each data point, but I have never heard anyone say that scatterplot axes should start at zero.
In most cases, a zero-based axis makes sense, but it ultimately depends on the data and visualization used. If you are tracking the trend in revenue of a multi-billion dollar company with a line chart for example, you probably won't learn much if you start the axis at 0.
-Speros