What's Ahead for Data & Analytics?
by Axis Group, on Jan 24, 2022 12:07:59 PM
The New Year is rushing in like a meteor!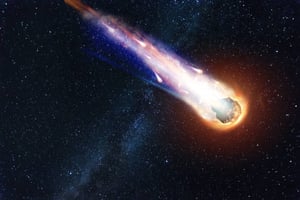 In business and IT, the goals of pursuing outcomes faster, better, cheaper, and at lower risk persist in the face of increasing competition and complexity. As ever, the stakes grow higher – especially where data and analytics are concerned. Let's take a closer look at these goals and how they intersect with data and analytics to plan for success in the year ahead.
Go Faster
If you're not already agile OR if you think you're agile, but you are not seeing expected benefits, then it's time to tweak your approach. Look at your processes, your culture, and your enablement strategy. Do you have a Data and Analytics Operating Model? Did you invest in governance or process improvement? Do you have the right supporting technologies in place? Have your teams been trained appropriately? Has that training been consistently implemented and reinforced? If not, it's time to engage with experts to get you moving in the right direction.
To go even faster, consider adding a level of automation. From AI/ML to digital workers to low and no-code platforms, there are evolving ways that allow even non-technical teams to compose solutions that combine data from disparate sources and provide analytics that deliver new insights and reveal new opportunities from all areas of your business. Are you evaluating these new avenues? Can you see how to insert them into your current work streams?
If all that seems like a fantasy, you probably have some work to do in order to conceive the "art of the possible" or maybe you need to extend Data Literacy across your enterprise. Gartner calls the ability to understand how people and machines and data come together to drive toward better business outcomes, Decision Intelligence. Do all your employees know how to access, use, and update data in their everyday work? Do they know what data and analytics tools and processes are available to support their goals and help them to achieve their targets? Do they know where and who to go to for help? If not, it may be time to enlist Enterprise Data Literacy experts to get a program in place to lay the foundation for you to build a more data-centric culture.
Be Better
Achieving higher levels of efficiency and quality are on every executive's must-do list. Start by architecting governance processes to facilitate these goals. Building trust through consistent and reliable data and analytics is central to all business functions. Revisit those processes and be sure they support the shifts you've made to hybrid everything – from managing remote and onsite teams to leveraging both cloud and on-prem technologies and tools. Without a baseline of trust and without quality, a business cannot achieve its growth goals. Have you evaluated your Data Governance and Management procedures? Are there clear escalation paths? Have your teams been trained? Do they understand the Change Management process? If not, find an experienced and reliable Data Governance expert to examine your strategy and approach, and then update and communicate your processes this year.
Do It Cheaper
Lowering operational costs also remains a top priority. This is not as simple as moving everything to the cloud and outsourcing all low-level tasks or automating everything. Yes, those are options to consider, but be sure you are determining the right routes forward and that there are clear benefits to be gained before making the leap. For example, if you're migrating data and analytics from on-prem to the cloud, forget about a lift-and-shift approach. Instead, determine the value of what you are moving, who needs it or uses it and for what purpose? If it's used intermittently or has been made partially or fully redundant, find out if other solutions or improvements may be needed. Be intentional and ensure that new or migrated analytics continue to deliver valuable insights that drive important actions and outcomes wherever they live.
Another approach to reducing costs is through increasing self-service. Training individuals to find the answers and insights they need without the help of data experts and IT professionals may cut costs. Do you have an enabled and data literate staff? Do they have access to training, content, and knowledge management, as well as mentors they can reach out to when they're stuck? If not, it's time to invest in building a Data and Analytics Center of Excellence. Imagine the cost savings and improvements you will see when everyone has the insights they need when they need them and can make speedy, data-supported decisions easily on their own!
Reduce Risk
When you hear "faster, better, cheaper," lowering risk is the unspoken but related ideal. It's an expected side effect of doing everything else right; however, it's trickier to boil down to one or two directives, because risk is inherent is all business activity. Reduce risk too much and you strangle innovation. So, in the year ahead, focus on calibrating your organization's risk tolerance levels. And, if you need help doing that, be sure to reach out to data and analytics experts who have done it all and can recommend a path for you that reduces complexity and surfaces meaningful analytics and insights while still protecting your data and other assets.
Pull It All Together
Focusing on outcomes is the only road to success. Rev up your data culture, implement a well-governed operating model, empower your teams, and the year ahead will be meteoric indeed!
About Axis Group
With over 25 years of experience, Axis Group delivers data and analytics consulting services and innovative solutions to enterprises and government organizations. Axis Group meets companies where they are on their digital transformation journeys to help them achieve their data and analytics goals. Focusing on each company's unique culture and digital maturity, Axis Group delivers data strategy and governance, greater data literacy, and drives analytics adoption to enable self-sufficiency resulting in smarter teams and better business outcomes. Axis Group combines business acumen, leadership, and industry-specific experience with technical expertise to tackle the toughest data problems. Axis Group is the Enablement company™.