Tools to Help Harness the Power of Qlik Webinar Recap
by Marina James, on Aug 18, 2017 3:44:14 PM


Thanks to all of you who could join us on the "Tools to Help Harness the Power of Qlik" webinar we hosted on Tuesday, July 18th. We hope that you enjoyed the presentation, and learned about some new tools that you can use to assist you in keeping your Qlik environment organized.
For those who could not attend the webinar, please see the recording here.
Mike Mahaney, Axis VP of Operations and head of Axis Core Services (ACS) opened the webinar with an overview of the ACS offerings that we provide: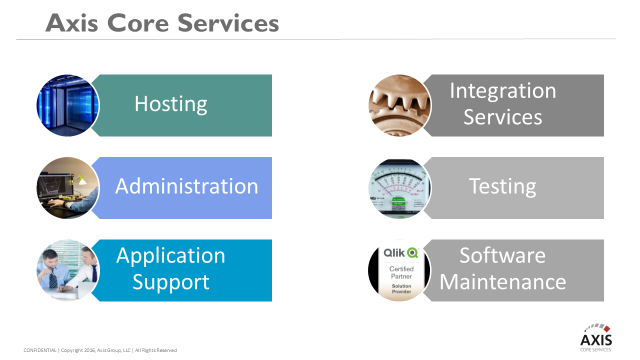 Our Core Services team has been supporting Qlik needs since 2008
We operate and manage Qlik environments on behalf of our clients
ACS has a dedicated staff with the skillsets, roles, processes, and tools to handle all of your operational needs
The ACS team is currently operating over 100 platforms and providing Managed Service for 30+ clients
ACS supports 150 clients via software maintenance
Louis Goffredo, Axis Operations Manager, spoke about Qlik's web connectors. These are tools that Qlik makes available to all their customers, but that many of us are not aware of or perhaps are slightly intimidated by.
In the Twitter example that Louis walked through, he pointed out certain requirements and helpful hints that will help make you more successful in leveraging these tools. To learn more about these hints watch the webinar recording.
Qlik Utilities
Ray Frye, Solutions Architect at Axis Group, explained another toolset that is available to all Qlik subscribers, QS QMC utilities. These powerful utilities available for Qlik Sense, extend the QMC and enable more efficient administration. The utilities that we focused in on were:
App Mover – allows user to export applications from one environment to another
Rule Manager – allows security rules to be imported and exported
Sheet Approver – enables Qlik administrator to approve sheets, stories, bookmarks and master items into base sheets.
Anyone can write their own extensions where they see a need, utilizing QRS API. If you are interested in learning more about custom extensions, please reach out to us at analytics@axisgroup.com.
Jeremy Seipel, Axis Senior Solutions Engineer, discussed a custom backup utility for Qlik Sense that was created by Axis Group to solve our administrative needs. Our operations department saw a gap in the ability to easily back-up and restore Qlik Sense environments. We therefore created our own executable to assist with this process. This utility is available free of charge to all of Axis's Qlik software maintenance customers.
Qlik Clean Up
Rami El-Jourbagy, Axis System Administrator, described free tools that are available to assist with the Qlik cleanup process, such as WinDirStat and Treesize. There are also custom tools to help in this process such as the Axis Adoption Tracker. For more information on the Axis Adoption Tracker, contact our operations department at qvsupport@axisgroup.com.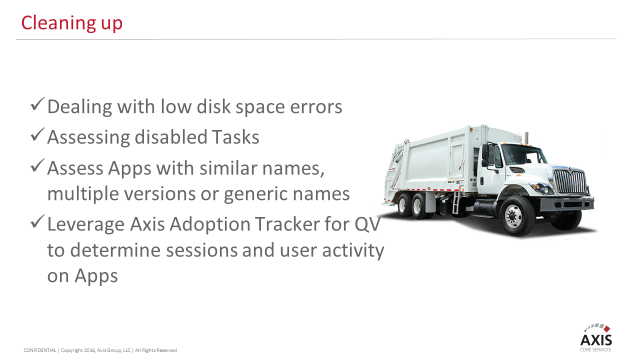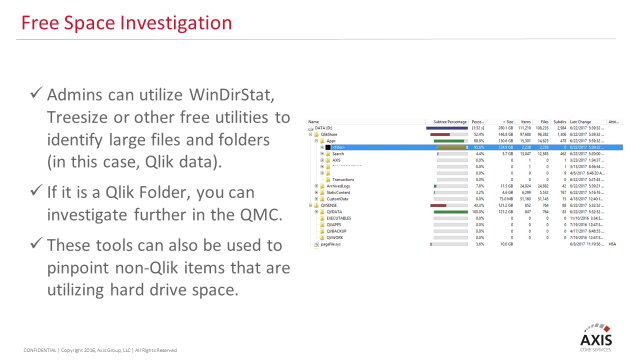 Next, Ameer Hakme, Axis Senior Solutions Engineer, address Qlik scalability testing. As everyone knows, without proper planning for the future, your Qlik environment can become overloaded and come to a screeching halt. Qlik Sense scalability tools can be leveraged to predict performance of a Qlik Sense deployment by simulating a realistic user scenario. Ameer discussed the testing process, from prerequisites through set-up, execution and finally analysis of results. In addition, he showed how to configure the tool and also pointed out what to look for when analyzing results (performance counters, response time, spikes in CPU and memory usage etc.).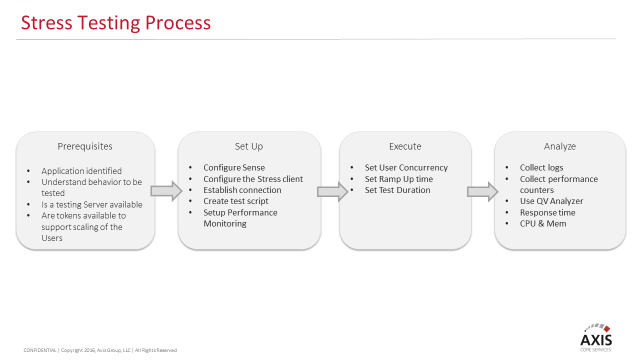 Just before we moved into the "Lessons from the Trenches," Jeremy Seipel, spoke once more about the Sunset of QV 11 and other version updates in QV, QS and NPrinting. Jeremy also made our customers aware of the naming convention changes that Qlik has recently put into place.
Finally Jeremy and Rami walked us through "Lessons from the Trenches," lessons that our operations department has learned while working with each of you to solve challenges that you have encountered. If there are "gotchas" out there and effective work-arounds or solutions, we want to make sure that we pass this information around to all of our customers so that we can all leverage off of the experiences of each other. Following is an example of one of these lessons: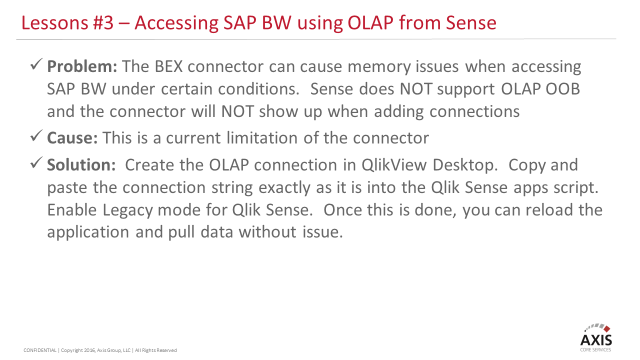 We hope that you found this webinar useful and that it pointed you to tools that you can leverage to keep yourself organized with Qlik. At Axis Core Services, we are here to assist you with all of your Qlik operational and administrative needs. We hope that you can join us for the next ACS webinar in the fall of 2017.
For more information on any of the topics above or any of the services that Axis Group offers, please contact us at QVSupport@axisgroup.com or call our Support Hotline at (908) 988-0200 x7. You can also reach Beverly Fielding, our customer advocate at bfielding@axisgroup.com or (908) 988-09200 x282.