Six Takeaways from QlikWorld 2021
by Jessica Bern, on May 21, 2021 4:40:45 PM
If you didn't know it sooner, QlikWorld 2021 underscored the fact that everyone is in the midst of their own digital transformation! From the keynotes including Malcolm Gladwell to panelists Yassmin Abdel-Magied, Dr. Hannah Fry and Dr. Paul Barth to presenters from a myriad companies, it's clear that digital transformation projects were accelerated over the past year, and companies without a clear data strategy had to quickly close their gaps in data and analytics, and fast!
This year's free and virtual conference delivered 100+ breakout sessions, including three from Axis Group, over the course of the three-day event. Read on to learn our top takeaways!
Active intelligence is not going anywhere
Introduced last year, active intelligence is the new phrase of the day. According to Qlik, "Active Intelligence is a new paradigm, creating in-the-moment awareness about every aspect of your business. It delivers a state of continuous intelligence from real-time, up-to-date information designed to trigger immediate actions." The net-net: active intelligence allows for more informed decisions, emphasizing the need for all organizations to be data-driven.
Performance matters to everyone
Axis Group's Chief Solutions Architect Mike Steedle taught attendees how to hack Qlik performance focusing on reloads. Performance matters for all stakeholders involved in a Qlik deployment:
For business users, faster reload times means fresher data and more timely decisions.
For developers, it is faster to make and test changes when reloads are fast.
For administrators, less time loading from QVDs decreases the likelihood of conflicts and tasks failing.
You can hack Qlik performance and get the Reload Time Analyzer too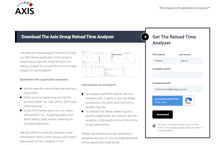 Axis Group built the Reload Time Analyzer utility. This Qlik Sense application analyzes an application reload log. It tells you what load steps are taking the longest and what work is happening during these steps. Strategies for speeding up reloads differ depending on what it is that is loading. Find out more and download the Reload Time Analyzer here: Axis Group Reload Time Analyzer.
Keep QVD loads optimized
Generally, it is known that One Exists() and the WHERE clause can be used to filter data. However, you can also use JOIN and DISCTINT loads. Concatenated loads will work only if you are concatenating to the same layout table. To know for sure if QVD loads are optimized, look at the progress window when something is reloading.
Lenovo's launch of the Velocity Portal
Lenovo, a global Fortune 500 company, launched the Velocity Portal last year. This was designed to enhance sales visibility at Lenovo. Lenovo, Qlik and Axis Group worked together to deliver a globally accessible SSO experience. Since its launch, more than 80,000 users have leveraged it.
The evolution of BI at PayPal
Over the past five years, PayPal has transformed their analytics from overlapping, duplicate systems with multiple sources into a reliable system with a single source of truth. Axis Group helped with their creation of a repeatable framework, which allowed for their reporting, monitoring and analytics to readily scale across the business and has set them up for future growth and innovation.
Next year, QlikWorld promises to be live and will be held in Denver, Colorado. We will see you there!