by Marina James, on Apr 10, 2018 4:45:58 PM
IS YOUR COMPANY UPGRADING TO QLIKVIEW 12?
Axis Group was approached by a client asking for help regarding the sunrise date that was set by Qlik for QV11 and IE Plugin support. They wanted help identifying what applications would be affected and suggestions on how to modify them so they would still work in QV12.
WHAT WAS DONE ABOUT IT?
A PowerShell application that produces a tab delimited file with identified key errors for QV12 upgrades as well as IE Plugin usage by: application name, tab name, and line number. Accompanying this file is a QlikView application that visualizes the different issues that must be addressed by the client.
HOW DOES IT HELP?
Ensures a smooth transition from QV11 to QV12 by identifying features that have changed
Identifies applications that need the IE Plugin currently, due to macros usage
Identifies potential pathing issues by application and source
SUMMARY:
After a decent amount of research, it was determined that IE Plugin usage relies exclusively with the use of macros in applications. This is due to the level of access that is needed to make them work.
A script was used to automate the creation of PRJ folders that extract the Edit Module and Load Script for each application in the source folders in the QMC.
If the Edit Module was populated, then macros were likely being used, else the application didn't contain any.
The Load Script was searched for key terms associated to changes identified by Qlik Contributors and Axis Solution Engineers:

DIRECTORY
INCLUDE/MUST_INCLUDE
EXECUTE
QV Functions
Server Name Mismatches
UNC versus Relative Paths

Errors were identified by: Application Name, Tab Name, line number and the error type.

Giving the location of the source application

A QlikView application was created that consumes this file
The Contributor: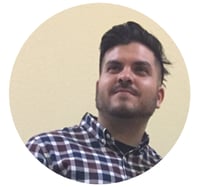 Adalberto Ponce is a Solutions Consultant at Axis Group who received his Masters Degree in Technology Commercialization from Rensselaer Polytechnic Institute. He's focused and determined to develop tools and processes to help Axis Group grow strategically, especially in his region!