Qonnections 2019: Get to know your presenter...Mike
by Jim Dolan, on May 9, 2019 11:25:47 AM
With Qonnections 2019 less than a week away, we thought we'd introduce you to our breakout session presenters. Next up...Mike.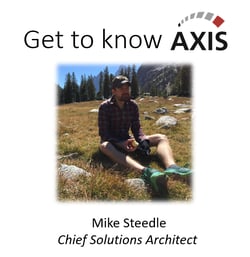 What is your most memorable experience from past Qonnections?
Every year, the Hackathon is memorable. The solutions people create on the Qlik platform are always surprising and impressive, and it's a chance to collaborate with creative, intelligent, and fun people from Axis.
What was the last book you read?
Peopleware: Productive Projects and Teams. Currently reading Don't Shoot the Dog!: The New Art of Teaching and Training.
What are you looking forward to at this year's Qonnections?
I am always excited to see what new features to expect in the near future from Qlik in the general sessions.
Favorite Texas related movie?
Bottle Rocket
What will you'll be presenting at Qonnections?
Rob Wunderlich (of Document Analyzer fame) and I will be presenting on the Qlik Sense Document Analyzer. It will be enough to jump-start people with the utility: installing it and using it to find opportunities to improve the performance and maintainability of their Qlik apps, which leads to happy users and happy developers.
---
Wednesday, May 15, 10:30 AM - 11:15 AM
Room: Escondido 1-3
Michael Steedle - Chief Solutions Architect, Axis Group
Rob Wunderlich - Principal Consultant, Panalytics, Inc
Is response time in your big Qlik Sense application less than desired? Do you want to optimize use of your server RAM and CPU? In this session I'll guide you through using the freely available "Document Analyzer" tool to identify, measure and correct performance bottlenecks in your Qlik Sense application.
Learn more about Axis breakout sessions here