Qonnections 2019: Get to know your presenter...Milad
by Jim Dolan, on May 8, 2019 1:22:14 PM
With Qonnections 2019 less than a week away, we thought we'd introduce you to our breakout session presenters. Next up...Milad.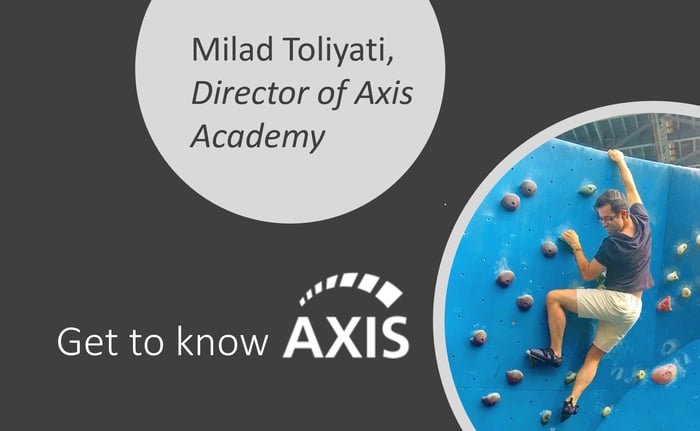 What is your most memorable experience from past Qonnections?
Our first Qlik Hack Challenge award. It feels great to see our team working hard to design a solution for use cases that has a humanitarian impact.
What is your Favorite Axis/Qlik related project you worked on?
Building an Analytics Center of Excellence for a technology company.
What was the last book you read?
Nudge: Improving Decisions about Health, Wealth, and Happiness
What are you looking forward to at this year's Qonnections?
I am excited to learn from Qlik customer stories and exchange knowledge about data literacy.
What's your favorite Texas related movie?
Paris Texas
What are you presenting at Qonnections this year?
I'll be presenting a practical framework for creating a data literacy program in the enterprise to empower every employee a better decision maker.
---
Tuesday, May 14, 3:00 PM - 03:45 PM
Room: Tate Ballroom 3-4
John Bunn - Director, Compass Excellence Center, CSL Behring LLC
Milad Toliyati - Director of Axis Academy, Axis Group LLC
We haven't seen many enterprise level data literacy programs out there since the concept is relatively new, but it's *crucial* to understand that effective Data Literacy is not only about competency and skills development. There is a prerequisite to creating an effective data literacy program. A complete program operationalizes analytics by enabling technology and business units. The program should focus on governance through education, providing the right data and tools to the right people, social learning for business, and adoption and rollout strategies. There are several components to a successful Enterprise Data Literacy Program, which we have termed the 5Cs of Data Literacy: Culture, Communication, Collaboration, Creativity, Competency. This 5C model helps compartmentalize the various components you need to build a successful program.
This session includes:
Overview of the Enterprise Data Literacy Program
Introduction to 5Cs of Data Literacy
How to implement a Data Literacy program in the enterprise
Examples of Data Literacy activities at CSL Behring
Learn more about Axis breakout sessions here