Qonnections 2019: Get to know your presenter...Speros Kokenes
by Jim Dolan, on May 7, 2019 1:53:20 PM
With Qonnections 2019 less than a week away, we thought we'd introduce you to our breakout session presenters. First up...Speros.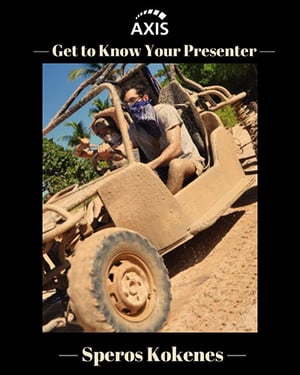 What is your most memorable experience from past Qonnections?
Learning about the Qlik Sense APIs when they were first released. It was an exciting time since there was so much potential.
What was the last book you read?
The E-Myth Revisited
What are you looking forward to at this year's Qonnections?
I'm looking forward to seeing the Qlik Branch crew and community in person.
What is your favorite Texas related movie/TV show/song/band?
The Mars Volta
Can you give a brief summary of what you'll be presenting at Qonnections this year?
I'll be presenting about the new possibilities that the Qlik Core product opens up for integrating the Qlik Associative Engine with third party solutions.


---
Wednesday, May 15, 10:30 AM - 11:15 AM
Room: Grapevine Ballroom A
Speros Kokenes - Visual Analytics Lead, Axis Group

Over the past few years, Qlik Sense has introduced more and more APIs to its platform, empowering developers to extend Qlik solutions beyond the humble dashboard. Now Qlik has taken its API approach to the extreme with its Qlik Core product. In this session, Speros will explain what Qlik Core is and how it fits into the Qlik and developer ecosystems. By comparing his BI developer experience on Sense and his software developer experience on Qlik Core, he will provide insight into how to think about the various options across the Qlik API spectrum and relay lessons learned from building a real product with Qlik Core.
Learn more about Axis breakout sessions here