Propel Qlik Sense Adoption with Axis Academy Training from Axis Group
by Axis Group, on Aug 26, 2021 4:14:42 PM
Axis Group enables organizations to be data-driven. We created Axis Academy, a self-directed learning platform, because we understand that everyone learns at their own pace.
Companies may spend money on business intelligence (BI) software but then they struggle with getting employees to adopt the new apps created on it. At Axis Group, we understand how to drive BI adoption effectively across a variety of industries, which is why teams and individuals find Axis Academy's on-demand, computer-based training so compelling.
Through Axis Academy, learners follow a training path that leads to increased Qlik Sense adoption and maximizes their investment. The curriculum is designed to give your organization the confidence needed to view, explore, build, and collaborate on Qlik Sense dashboards.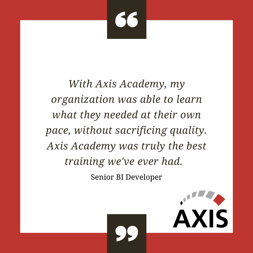 We offer video modules that are user-controlled, eliminating the need to spend hours in the classroom, in turn saving your organization money in the process. Users build skills and test their knowledge inside Qlik Sense, starting with the basics. After learning how to use graphs and filter data, users learn how to create their own graphs and how to write expressions resulting in higher levels of self-sufficiency. Advanced modules teach how to build apps from scratch and how to build data models. We have designed Axis Academy to be scalable to meet your needs - no matter how big or small your company may be.
As Qlik's largest North American partner, we know Qlik better than anyone. With our experience and expertise, we build Axis Academy with our customers in mind. Check out the Axis Academy training catalog here.