by Speros Kokenes, on Jun 6, 2013 4:34:22 PM
In the appendix of Stephen Few's book Show Me the Numbers, he provides the color palette he uses throughout the book. It is broken up into three categories, which he explains:
"The light palette was used for large data-encoding objects, such as bars and boxes, the medium palette was used for small data-encoding objects, such as data points and lines, and the dark and bright palette was used to highlight particular items, such as a particular bar."
The palette looks like this:
While Few details where he uses the different categories, he doesn't explain why. In Design Elements – A Graphic Style Manual by Timothy Samara, the author explains the relationship between volume and intensity:
"The amount of color that can be perceived – and its intensity and value – are all affected by volume. The orange of the narrow line appears darker and less intense against the white field of the page than either the thicker line or the larger square."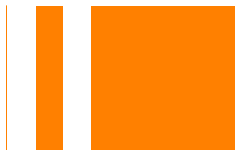 Because bar charts occupy a bigger area, they need a less intense color value than other visualizations like lines and points, which need a more intense value to have the same level of perception by the user. This is useful to keep in mind when branding an application template.
Few's color scheme can be a nice starting place when building an application; you can download a QVS file that loads in the colors as QlikView variables here.
Happy coloring.