How to get the most value out of your SAP data with Qlik
by Richard Villanti, on May 12, 2017 7:38:04 PM



Whether you are a C-level executive, a director, or a business analyst, you are constantly trying to answer the same questions:
"How can we operate more efficiently?"
"How can we expand the business?"
"In which areas of the organization should we invest?"
All of these questions can be answered by using your data effectively; but how do you do that? If your organization has SAP ERP, then you have a pretty good start on the collection piece of your data, but SAP itself leaves much to be desired on the data extraction and analytics pieces. If you are planning to make business decisions based on facts and data, and effectively answer the above, then just collecting the data is not enough; it is imperative that you be able to quickly and easily extract, transform, and visualize this information. This is why we leverage Qlik on top of SAP. You can easily pull data out of SAP, just like any other database connection, and build a user-interface that can drive those important decisions and lead to better business outcomes. In this post, I will go through one of the many examples through which we were able to help a business visualize their SAP data in Qlik and explain why Qlik was chosen over some of the other options in the market.
A client of ours was searching for an intelligent solution to replace their existing SAP Business Warehouse, which wasn't providing the speed or agility to make data-driven decisions on which they could effectively run their business. They vetted several pieces of technology and ultimately decided to purchase Qlik to replace the hundreds of existing reports, all of which were essentially static exports of data that required users to run offline Excel programs in order to gain meaningful insight, not unlike running t-codes in SAP directly. With the task of replacing this SAP BW Instance, we began our typical process of engagement: design interviews, blueprinting sessions, pizza, design iterations, architecture review, etc… until a few weeks later when we had a solution mapped out. A solution that would deliver both the static Excel-esque extracts as well as dashboards that would provide quick, dynamic views into the data. We initially began with a list of over 150 reports that had been developed in the warehouse and dwindled it down to a measly 28 reports that were critical for decision-making, as well as a handful of dashboard views which would be their one-stop shop for all insights. Users in multiple departments now have visibility into their financials and can break their revenue and cost numbers down by the various account types. They can see which product hierarchies are selling at an accelerated rate and which ones are underperforming their forecasts – and they can adjust accordingly! On the procurement side, they can track their product run rates, demand for new product, lead time for acquiring more product, and ultimately determine whether or not they can meet their upcoming demand. Because too much change can cause confusion with users, we mitigated risk by replicating the existing reports at the same time as building the dashboards to never leave the comfort zone of the users. Over time, the users will wean off the reports and get answers to their questions with the dashboards, but until that time, they still have status quo, which is often key in getting their buy-in.
Above, we talked about other options, so let's take a look at some tools that could have provided similar functionality:
SAP Business Warehouse
SAP Lumira
S/4 Hana
All of these options are viable, but are they the best? Do they deliver the best value for the price? Will they "drive your data to the finish line"? When asking these questions, a couple of issues immediately rise to the top and are persistent across all options:
User Cost
Users can view SAP data only, which means that if users need to see other data, you will need to insert it into SAP (always a fun task). With Qlik, adding data to a report is incredibly simple, even if that data comes from a completely different type of system, maybe an HR database so you can pull in employee vacation time and see if you need to account for your foreman to be off the week of a big shipment.
Long Implementation Cycles
Ask any SAP consultant: when working in SAP, it takes a lot of time to implement solutions; and time is money. With a repeatable solution in Qlik that has been implemented across numerous clients, you can quite easily plug and play. Within 2-3 weeks, you will be able to see your data. It will take longer for customizations, but it will take nowhere near the amount of time as it would to implement Lumira or the Business Warehouse. Because SAP's underlying database is the same across all organizations, it enables the same code to be used across SAP implementations. There are even cases where organizations have multiple SAP instances, perhaps created due to geographical location or even through the course of numerous acquisitions. In these cases, the additional SAP instance is just another data connection that can be blended in with other SAP instances. Again, the same code can be used for a fast development cycle.
Static Reports
Arguably the best function of Qlik is its associative engine. It is a game changer that simply does not exist in other solutions. In Lumira, for example, the use of variables is not persistent across views, making it difficult for users to keep track of their selections. Variables in the Qlik realm are analogous to field selections. Something as simple as choosing a year, or a product, or a customer and then changing views only to have that selection reset is something that as Qlik users we take for granted. We build a dashboard and it is assumed that all views are persistent. In addition to the engine, the visualizations and the extensibility of Qlik are unrivaled when compared to other products. Yes, users are familiar with Excel, and might only want an extract of data. But we have come to find out that users want the extract only to manipulate the data and build pivot tables or some other UI visualization in Excel that can be done in a heartbeat in Qlik. By leveraging the UI of Qlik, we can skip steps for the user and create time savings that enable the user to act on data, not just spend the time getting the data right. On top of that, with the governed self-service capability that Qlik offers, power users are able to build their own visualizations easily and with limited coding experience. Not only can organizations enable data activists, but they can also solve the data literacy gap. In fact, analytics will be accessible to a larger audience who can potentially create their own dashboards, come up with new insights, and share those with others to improve efficiency and bridge the gaps. Users may start with simple, basic charts and defined processes, but lead through example and engagement to open discovery and analysis.*
Most of what I have said so far has been related to Lumira or the Business Warehouse, I have only barely touched on S/4 Hana. In a nutshell, S/4 Hana works great with Qlik. The combination of the two will only enable even faster development and quicker answers to your business questions. Why put an in-memory tool on top of another in-memory tool? The answer is purpose; S/4 Hana has its purpose of database simplification and speed, while Qlik has its purpose of data visualization, governance, and self-service. S/4 Hana and its columnar based approach to the database simplify how Qlik gets access to database tables. For example, in the FI module of SAP without S/4 Hana, there are over 190 tables. With S/4 Hana, that number drops drastically to around 10. From a developer's standpoint, this greatly reduces the amount of time it takes to build data models. Without this table simplification, the developer needs to query many tables, understand the cardinality of each table, and then subsequently join those tables. With S/4 Hana, similar to our standard set of queries, a lot of that work has already been done.
By implementing our solution in Qlik, the customer was able to reduce cost and increase time savings while at the same time have higher visibility into their data. By utilizing the Qlik dashboards, they are able to quickly identify areas of concern and act immediately, in real time, instead of in 2 weeks when the data has gone through the Excel Car Wash.
In the same way that we have implemented this solution across numerous other organizations, Axis can help implement it for you to enable your teams to gain operational and strategic insights, driving positive outcomes for your business. Data is no longer a "nice-to-have"; in today's world, your competitors are using it as a weapon to cut operational cost and mitigate risk, the savings of which can be passed off to their (and your) customers. Couple the powerful collection mechanism that SAP provides with the speed and flexibility of Qlik so you can edge out the competition first!
*http://global.qlik.com/us/blog/posts/murray-grigo-mcmahon/designing-for-data-literacy
Come and meet Richie at the Axis Group's booth (#701) at Qonnections 2017, to discuss how you can improve your SAP reporting using Qlik.

About Richie: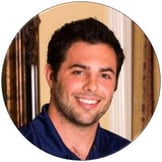 Richie has a degree in Mathematics from Penn State with a minor in Economics and a concentration in Chemistry. He is currently a Solutions Architect at Axis Group and has worked with SAP clients since 2013.