Qlik® GeoAnalyticsTM Information and Demo Webinar Re-Cap
by Deanna Sanchez, on Jun 27, 2017 5:05:39 PM



Hi, everyone! Thanks to those of you who were able to join us on the Qlik® GeoAnalytics TM webinar we hosted on Friday, June 16th. We hope that you enjoyed the demo, and learned how to get started with this powerful and flexible new geospatial Qlik product!
For those who weren't able to attend the webinar, a link to the video is provided here. Here's an overview of what we covered in slightly less than two hours:
I opened the webinar with a live demo of how to set up your initial connection within the Data Load Editor to the GeoAnalytics TM server, and access the GeoAnalytics TM Connector. This Connector allows the user to choose from almost 20 different spatial analytic functions, including Within, Dissolve, Load, Travel Areas (including Drive Time) and much more.
Then I showed how to use the Load function to quickly load U.S. Airport points as well as U.S. State areas directly from the GeoAnalytics TM Integrated Location Library. This location library contains over 6.1 million points and areas, including many countries and states, U.S. counties, and zip codes.

Using the location library along with simple Excel files, thematic maps were created on the fly to show three types of maps:
Sales by U.S. State
Sales by U.S. County (Texas)
Zip code areas (Dallas, TX)

These three maps were then combined into one Drill-Down map, which allows the user to "drill down" from U.S. States (color coded by measure; such as "Sales"), to Texas counties, to Dallas zip code areas. In just a few steps, it was shown how easy it is to set up the Master Item Dimension to create this interactive type of map.
With an additional Excel file of Dallas Restaurants, I then provided step-by-step instructions to load a point layer containing Latitude and Longitude coordinates. Using these restaurant points and the GeoAnalytics TM Connector, it was easy to generate various "travel areas" using straight-line distance and radii, drive time distance in minutes, and even pedestrian walking areas around each restaurant location.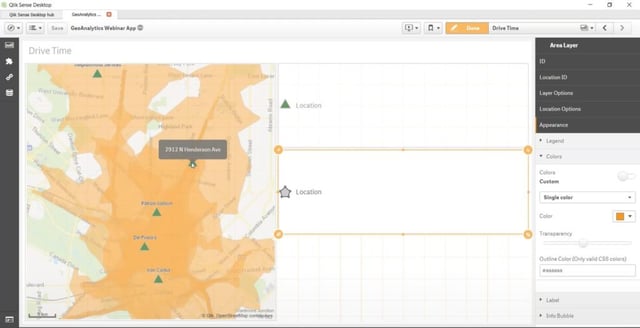 As mentioned in the webinar, the above spatial functions are just the "tip of the iceberg" of what Qlik® GeoAnalytics TM can do. We hope this webinar provides an excellent start to your use of GeoAnalytics TM and sparks your interest in what you can accomplish with spatial analytics and maps. There is a world of possibilities available – try GeoAnalytics TM and start seeing your data in a new way!
For more information on Qlik® GeoAnalytics TM please contact Axis Group at analytics@axisgroup.com.