Customer Spotlight – Creating Workplace Wellness Programs Using Data!
by Marina James, on Feb 26, 2018 4:08:55 PM
Qlik allows Viverae to track IoT data to engage members and validate corporate wellness programs.
IoT data is at the heart of what Viverae offers to its clients. Headquartered in Dallas, TX, Viverae works with businesses large and small in order to inspire and support healthy lifestyles and help employers manage claims costs and reduce risk. One way Viverae does this is by recommending and creating employee health challenges that inspire engagement at the office.



"Using 3rd party devices, we gather iOS and Fitbit data among other sources to create challenges. For example, hitting a milestone of 250,000 steps might be worth XYZ number of points in one of our challenges." - Mahesh Salem, Vice President of Information Management and Analytics, Viverae



Until 2014, Viverae was doing a lot of manual work with individual spreadsheets to create client reporting, which was time-consuming and increased the chance for errors. But help was on the way when Mahesh introduced the company to Qlik, showing there was a way to display metrics like individual plan member health and product effectiveness by client.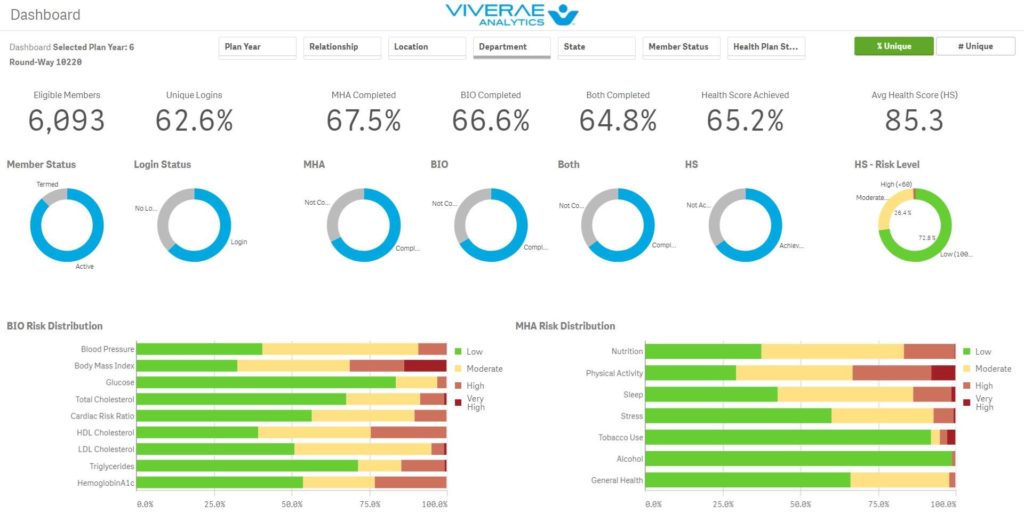 Soon after, the department of Information Management and Analytics was founded by Mahesh, who put QlikView and NPrinting to work to automate the company's reporting. With some additional help by Qlik partner Axis Group, Viverae was able to deliver advanced analytical features and visualizations using Qlik in ways the company had never seen before. Since the implementation, not only are reports spun up faster than before, internal teams now can pause and ask new questions.



"Before Qlik, our team would take questions in meetings, go back and do the analysis, create a report and then get back our clients and consultants. With Qlik, we asked all the questions upfront and we can answer questions as they are being asked." - Mahesh Salem, Vice President of Information Management and Analytics, Viverae



One team that sees immediate value with Qlik is the Health Management Analytics team, which handles all client-facing reporting. Viverae's CFO & COO like to regularly check the pulse on client service level agreements and performance guarantees, while the Client Services team pays very close attention to client engagement rates for more impactful client meetings.



The evolution of reporting has steadily continued since Viverae purchased Qlik Sense in November of 2016. The company has been working behind the scenes to prepare for a migration from QlikView to Qlik Sense, along with the rollout of the most popular metrics on Qlik Sense. With 2018 now upon us, the future looks bright for Viverae, and Mahesh has one company in particular he wants to thank:



"Qlik makes our business more efficient and more effective: we can answer questions on the fly and give our internal and external customers the tools to do the same."