5 Takeaways from ThoughtSpot Beyond 2019
by Clint Strickland, on Oct 29, 2019 10:23:09 AM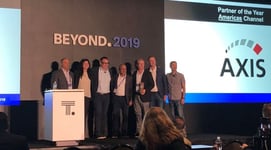 I wanted to take a few minutes to talk about my visit to ThoughtSpot Beyond. It was an incredible time with great talks, great Dallas BBQ (Pecan Lodge) and Axis Group picked up some hardware (the 2019 award for North America Partner of Year!)
First the caveat, all of the BI/Viz leaders have their sweet spots, and at Axis Group will help companies achieve better outcomes by leveraging their data with the right technology choices to improve on targeted use cases.
Right Approach + Right Tool = Winning Solution, not Right Tool = Winning Solution.
Now for the post...
User Experience is Winning
At a technology conference, I expect to meet data-nerds like me with the majority of the attendees holding analyst/IT centric positions. At ThoughtSpot Beyond 70% of the attendees held Executive-Level titles, and the majority of the attendees I talked to were representing the business, not IT. Additionally, every customer I met admitted that they are supporting multiple BI/Viz tools. They believe that ThoughtSpot/Search is providing additional and differentiated value.
So, why so many representatives from business units?
In speaking with ThoughtSpot customers, one of the primary drivers was the speed at which questions could be answered. In our day-to-day lives, we can use Google or other applications to get an answer in a few seconds, whether it's an update on the weather, a sports score or the ETA pickup time on your kid's school bus. Many business users are still frustrated that though IT organizations have provided BI tools that claim "self-service", the hub and spoke support model has created time-barriers for non-technical savvy end users. Business users cannot wait weeks for an answer, and they don't understand why it takes so long. It only takes a long time at work to get data. Alexa, why does it take my IT department two (2) weeks to tell me what my customers purchased last year?
Organizations leveraging ThoughtSpot argued that this model is changing in their organizations to a new paradigm where IT is simply the data steward and provider. ALL users can leverage data due to ThoughtSpot. Heck the tool even has Automated Insights (SpotIQ) that tell me what to look at. #EasyButton.
(I am bullish on ThoughtSpot, but I also argue that regardless of tool, the culture and a committed investment in Data Fluency is critical for any technology investment to have a true impact. Becoming data-driven is a mindset, not a technology.)
Imitating Other Digital Leaders
One of ThoughtSpot's major releases was the introduction of the "Personalization Engine". The "personalization engine" will leverage machine learning and my own actions to make recommendations to me. ThoughtSpot (smartly, I might add) is imitating other analytical leaders like YouTube and LinkedIn to provide more valuable content for users by observing their consumption patterns. Starting in ThougthSpot's next release, users will get recommendation based on Pinboards they are following, followed data points, people they follow and recently trending items.
I think this could fundamentally change how the common knowledge worker leverages data. As the kids would say, "I'm Hyped Up for the Feed 🔥 🔥 💪"
Visualization and Guided Analytics
So, I have gushed over ThoughtSpot in the first few paragraphs…. But, guess what? Guided analytics are STILL INCREDIBLY important. ThoughtSpot also acknowledged that they are behind the other leaders (Qlik, Tableau, and PowerBI) in this area, and want to close gap. ThoughtSpot will be releasing many enhancements to close this gap in the next release. I still don't feel you will be able to produce the guided experiences that the other tools can provide, but the narrowing will position ThoughtSpot more favorable in certain use cases.
Sand vs Stone – Data Foundation Key to Success
ThoughtSpot doesn't do "ETL" it is really just "L". ThoughtSpot announced a strong partnership with Snowflake called Embrace that allows for the data to reside in Snowflake. This allows the data to stay in the Warehouse, and Snowflake world-class processing and ETL engine can be used. If you aren't looking at Snowflake, you should be, but that's a different post for a later date.
In short, ThoughtSpot gives you answers quickly – right answers or wrong answers. You need to have your data house in order, and if you plan to acquire ThoughtSpot without a data management strategy – it will fail. This is true for most tools, but ThoughtSpot's limited features in ETL make it more of priority. The other leaders have features that can assist with data mapping, cleanup and transformation.
In summary, ThoughtSpot is tackling the "dashboarding problem" differently, and it is resonating with their customers and the market. Their continued investment in machine learning, search-at-scale, and ease of use is providing distinguishable, differentiated value for their customers.
If you would like to see a demo or learn more about any of the leaders (Qlik, Tableau, PowerBI, and ThoughtSpot) please don't hesitate to contact us.
P.S. - Pecan Lodge!!!
Get in Touch to Learn More!
Use the Button below to get in touch with us for a comprehensive Demo or more info!
Article originally published on LinkedIn by Clint Strickland. Re-published with permission.