5 Key Takeaways from Strata
by Marina James, on Mar 14, 2018 5:34:27 PM
I wanted to take a few minutes to talk about my first visit to Strata last week. It was an incredible time with great talks, perfect weather (I want to move to San Jose), and I even got a selfie with Amr Awadallah (Twitter: @awadallah).
Here are my takeaways:
Big Data, Bigger Questions
Though there were definitely a lot of experts at Strata, a majority of the non-partner participants still had basic questions about the Hadoop ecosystem and players. I frequently heard (and for the most part, tried to help answer) questions about how a partner technology simply fits in the ecosystem. Other questions included, "Why Hadoop?", "What is Kafka/Spark/Kerbenetes/ ?", and my favorite, "So, it's SQL with Workflows for Big Data, right?"


I think the major takeaway is that everyone is interested in how they take advantage of Hadoop, but there is no magic bullet. (Sorry for the two second sales pitch, but I must…. If you are struggling with what Big Data means to your organization, Axis Group can help you understand and deploy your first solution. Ok… back to the post.)
Best-of-Breed Technology Approach is Most Popular Right Now
For less technically-savvy users to gain the full benefit of a modern Big Data platform additional tools for ingestion, cataloging, wrangling and/or visualization can make an enormous difference. Tools do an excellent job at improving your time-to-value equation and augmenting your team's overall capabilities.


At Strata most customers I spoke with were employing a best-of-breed approach. The most common "multi-tool solution" was StreamSets for ingestion, WaterLine or Alation for Catalog and Trifacta for Transformation on a Cloudera CDH distribution, obviously. Visualization and data science players were spread across the board.


It will be interesting to see how new tools like Unifi (which includes catalogue and transformation) or established players like Informatica (ingestion, governance, transformation) will shape this trend over the coming years.
Open Source has led to an Open Community
Don't burn any bridges in the "Valley".


Everyone knows everyone. Open source development has led to a lot of collaboration between teams at many different companies. This has created tight relationships in the development community that sometimes outweighs company loyalty. It was not uncommon to hear stories of a person leaving an established player to venture into greenfields with new technology players.
The concept of "friendenemies" – Amazon and Microsoft with Cloudera and HortonWorks
Screw competing, it's all about node use. I got to see and hear some interesting partnerships stories in a market where I expect competition to tighten in coming years.
Visualization is Still Catching Up
The two big viz players at Strata were Arcadia Data and ZoomData. They are both optimized for the modern platform. Personally, I was more drawn to Arcadia Data, but I still familiarizing myself.


On a side note, the two giants in the space that were missing at the conference were Qlik and Tableau. They both are making incredible strides in the space, Qlik especially. The major challenge for Qlik and Tableau is that their in-memory and massive self-services advantages lessen in landscapes with massive amounts of data. Today, both tools require some additional architecture planning when dealing with billions of rows. I am also skeptical of why you need to visualize billions of records at once, and aggregated results work well all the major BI tools, so my early critique may be a moot point.


If you made it this far, thanks for reading.
The Contributor: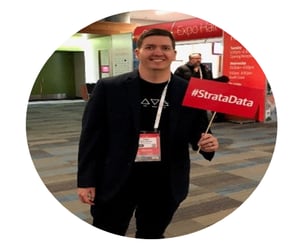 Clint Strickland is the VP of Solutions and Strategy for Axis Group, responsible for strategic relationships and client solutions. He has a Master's Degree in Management of Technology (Business Analytics) from Georgia Tech. He has served as an advisor for Fortune 1000 companies in areas of visualization, analytics strategy and data-solutions delivery since 2009.