Xcelsius fun: Critical Response to the Artistic Photograph



From the Joe Lipka Photography page:
[swfobj src="http://axisgroup.com/wp-content/uploads/2009/02/crap-with-white-title-and-border.swf" align="none"]
"Critical responses" are produced at the click of a button through an Xcelsius-generated Flash file. How is this accomplished?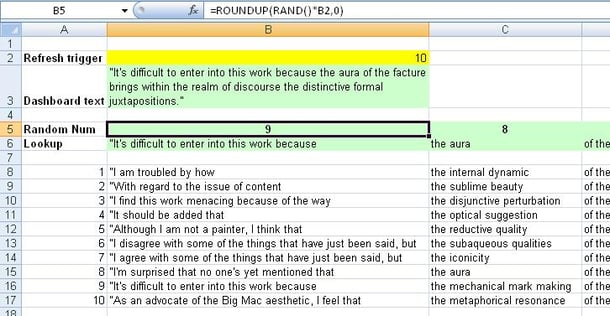 The source spreadsheet has five lists of sentence fragments that are concatenated into a single pretentious statement.
Recalculation of the spreadsheet is driven by the value of 10 - the number of possible sentence fragments - being inserted into cell B2 every time the Generate button is clicked.
Each list has its own expression using the random function in row 5, generating a number between 0 and 1 to be multiplied by the contents of cell B2 and rounded up to the next whole number, producing an integer between 1 and 10.
Those integers are then referenced in LOOKUP expressions in row 6 to retrieve sentence fragments with the corresponding indices
Finally, the sentence fragments returned by the LOOKUPs are assembled for display in cell B3.
What other applications could you build in Xcelsius with similar logic? A flashcard-like aid for studying or learning a new language, perhaps. The SWF could even be embedded in a web page for the benefit of classmates.

Labyrinth Triptych 42 by Joe Lipka, currently hanging in my hallway at home