Minimalist Gauges in QlikView



QlikView's out-of-the-box gauges typically have over-the-top formatting. One gauge that can be used effectively while following Tufte-esque principals is the linear gauge. With the right formatting, you can minimize the amount of data ink while efficiently comparing a metric to a target.
An implementation that I like to use is a combination of a linear gauge and a line. First, I create a gauge that draws a line for my target metric and a bar for the actual amount. To minimize data ink, I make the gap between the target metric and actual amount transparent (assuming the target has not been reached):

I prefer this to using another bar to color the distance as it minimizes the ink we are using. However, when placed on a populated dashboard the link between the line and the bar can be obscured to the user. To help clearly define the connection between the elements, I include a line object behind the object:

Another benefit of using a transparent gap is that you can include other metrics on the line without overcrowding the gauge with bars. For example, let's say the gauge above plots Sales as the bar and Goal as the line. I may have another metric called "Open", which are sales that are in process but have not been officially closed. I can add that data to the gauge like so:

In a dashboard, you might format this gauge in your dashboard header with information like so (image includes hover-over text):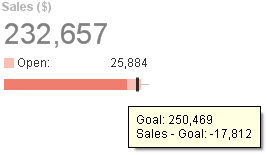 You can download the QVW I used to make the above example. It is variable driven, so you can easily manipulate the variables to update the gauge with your own data.
-Speros